1 Start the software and identify yourself
Once the app is downloaded and installed, and you have started it by tapping the Ubity UC Mobile icon, you will be asked for a username and password. These credentials are the same as the ones you use on Ubity's web management portal, commonly referred as Studio.
Username: the username used to log into the Ubity management portal
Password: the password used to log into to the Ubity management portal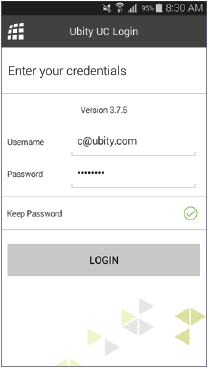 If you don't yet have a password, or can't remember your password, you will have to request a new one by clicking on the "
Recover your password
" link on
Studio
's login page.
By checking Keep Password, you will be automatically logged in each time you launch the software, without having to enter your username and password.
2 Test your equipment
It is important to make a test call to ensure that your microphone, your headset and/or your camera work correctly. If this is not the case, you should contact an IT manager to help you set them.