Administrator's guide to viewing the status of the extensions of your phone system from Studio, Ubity's online management portal.
1 Log into the Ubity web interface
Interface Address:
https://studio.ubity.com
Username:
your e-mail address
To obtain a password, you must request one on the interface (click on Recover your password) because Ubity does not have access to them for security reasons.

2 Viewing the status of phone extensions
Go to the My account tab and click on Extensions, and then click on Extension status.
This tool allows you to view at one glance the list of extensions associated with your account, see their status (Available, On Call or Offline), as well as initiate a call to one of the extensions.


Click the arrows icon to display the status of the extensions in full screen mode.
Status

Available: The extension is connected to Ubity and free to receive calls.

On call: The extension is connected to Ubity and busy with an ongoing call.

Disconnected: The extension is not connected to Ubity.
Filter
You can filter theextensions you want to view based on their Status.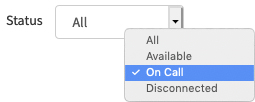 Order
You can sort the extensions in the list in order according to their Name or their Extension number.

Search

You can search for an extension by Name or by Extension number.

Initiate a call
Users with an extension associated to them via the Studio management portal can initiate a call directly from the tool Extension Status.
When you hover the mouse, this icon identifies the extensions available to receive calls.
To initiate a call, simply click on the extension of the person to be reached, and pick up the handset from the phone. The call will ring on the selected extension, and the connection will be established once the call is answered by the recipient.

Note: This tool allows you to view the status of the telephone extensions associated with the company, and not the status of the agents registered in call queues in the contact center.